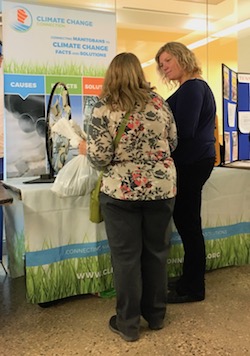 Climate Change Connection is a charitable non-government organization working to
educate Manitobans about climate change. We build awareness of climate change so Manitobans will reduce their greenhouse gas (GHG) emissions – both individually and as a community.
facilitate climate change solutions. We work to expand our network and get involved with people and groups who are working toward climate change solutions.
Here is a list of services we offer:
Presentations to groups and schools
Support for special projects aimed at youth education, empowerment, and healthy, sustainable schools and communities.
Climate "Day of Action Events" for Youth.
Manitoba-specific info, publications, & other school resources.
MakeWay
Climate Change Connection is a project on MakeWay's shared platform, which provides operational supports, governance, and charitable expertise for changemakers. The shared platform enables more time and money to go towards achieving greater impact.
MakeWay is a national charity and public foundation with a goal to enable nature and communities to thrive together. We do this by building partnerships, providing solutions, grants, and services for the charitable sector across the country.
At MakeWay we build partnerships and offer tools that enable community-led transformation.
At MakeWay, we tackle change to help nature and communities thrive together.
Our Mission
Climate Change Connection aims to make Manitobans aware of climate change facts and to inspire them to take action to reduce greenhouse gas emissions and to build climate resilient communities
Our history
We  started in January 2002 as part of Canada's effort to meet our Kyoto Protocol objectives.
Centres were created in each province and territory to serve as inter-connected information hubs. That network no longer exists formally, but we still work with our current partners to connect Manitobans to climate change facts and solutions.
Governance & funding
MakeWay Charitable Society's Board of Directors holds full legal and fiduciary responsibility for our project.
The Project Leadership comprises the Project Director and the members of our Steering Committee. Day-to-day stewardship, fundraising and strategic guidance is delegated to the Project Leadership by MakeWay Charitable Society Management and Board of Directors.
The Steering Committee is a volunteer group that provides strategic and financial oversight, but doesn't have governance and fiduciary responsibility.
Primary funding has been provided by donations and grants. Donations are tax deductible.
We work to objectives, deliverables, and metrics laid out in our annual work plan.

We report progress twice a year.