In this section, you will find ideas for how your small or medium size business can
We also have links to industry-specific resources.
Business leaders at the 2000 World Economic Forum voted climate change as the most pressing issue facing the world's business community.
A common myth about climate change is that taking action will negatively affect your bottom-line. However, the cost of inaction outweighs the costs of early action, and the sooner positive action is taken, the greater economic benefits to your business. (1) As an entrepreneur, now is your time to see environmental problems as business opportunities. (2) Check out our FRESH stories about local entrepreneurs whose green businesses are thriving.
The key benefits of responding to climate change are: (3)
reduced costs and higher productivity by improving energy and material efficiencies
new revenues by developing new, climate-friendly technologies, products and services
enhanced brand images
improved employee morale and loyalty
reduced liability and risk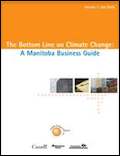 Click here to download our publication "The Bottom Line on Climate Change: A Manitoba Business Guide"