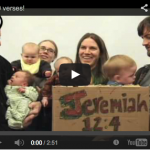 In 2009, at a Mennonite Church Canada national conference in Saskatoon, churches were asked to consider making a public statement for peace in their communities. The Hope Mennonite Church on Furby Street in Winnipeg responded by making a YouTube video to promote reducing carbon dioxide in the atmosphere.
Here's their video:
Many of the church's members are environmentally conscious and when they gathered in early November to decide on a possible public statement of peace they naturally turned to the issue of climate change. "A lot of our members work hard at minimizing their ecological footprint," said Lynell Bergen, the pastor of the church. "We believe environmental issues are a peace issue."
The church decided to find 350 verses in the Bible about God's love of creation and care for the earth, said Lynell. The congregation decided to focus on the number 350, because the goal of the U.N.'s Convention on Climate Change in Copenhagen was to create a treaty that would limit the concentration of carbon dioxide in the atmosphere to 350 parts per million.
Lynell said that their major challenge was the short time line they had. They decided to make the video in mid-November and wanted it complete in time for the Copenhagen conference in early December 2009.
Over the next three weeks Christine Penner Polle, one of the champions of the project, found the 350 verses. Then at a regular Sunday potluck in December Curt Wiebe, a member of the congregation and film maker, filmed the video. It is a montage of individuals and families holding up signs with Bible verses on them in various creative ways.
One example of a verse included in the video is Genesis 8:22: "As long as the earth endures, seedtime and harvest, cold and heat, summer and winter, day and night will never cease."
Many of our members are in the video. We told them to bring props and then we gave them the Bible verses," said Lynell.
The video has been successful in raising awareness of the issue of climate change. It has had over 2900 views on YouTube, was shown at the most recent Mennonite Church Canada national conference, and a Christian environmental organization from the U.S. has incorporated it into their educational presentations at universities.
"For us this is part of our faith. We are called to be caretakers of the earth," said Lynell.
Hope Mennonite Church, Winnipeg
Lynell Bergen, Pastor
Story submitted by: Sean Campbell