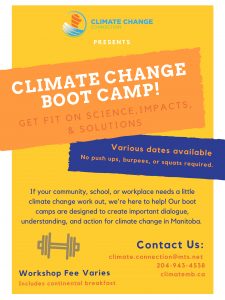 No push ups, no 10 km runs. Instead, this Boot Camp is an opportunity to exercise your desire to take action and join other climate change champions at the top of the podium.
Climate Change Boot Camp provides a setting for community members to learn about climate change facts and solutions. The program hopes to develop informed and motivated community champions who can educate and support action on climate change in their communities.
If you are interested in participating in our next camp, please contact us.
What happens at a Climate Change Boot Camp?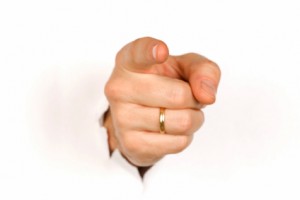 Boot Camps are day-long or half-day sessions. Trainees will walk away with an understanding of how to:
Organize a climate change event,
Plan a greenhouse gas reduction activity in their community, and
Deliver a climate change presentation.
Each participant will receive hands-on training from local experts about the science, the impacts in Manitoba and around the world, and the solutions.
Who is invited?
All Manitobans are welcome to attend. We do ask each trainee to commit to being a climate champion in their community. This work can be demonstrated through presentations, displays, or initiating action and community projects.
How much does the Boot Camp cost?
The prices vary based on attendee numbers and boot camp location. A continental breakfast or lunch is provided at no extra cost!
Past Boot Camps
Past Climate Change Boot Camps have been highly successful. We have had participants from across Manitoba come together for a day filled with great discussions and action planning.
Click here to view a sample Climate Change Boot Camp Agenda.