To encourage the reduction of unnecessary greenhouse gas emissions, we offer "Healthy Communities Don't Idle" Idle Free Zone traffic signs.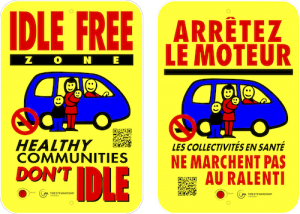 The signs are 30 cm X 45 cm (12″ X 18″) on 040 aluminum with 2 pre-drilled 1 cm dia. holes for easy installation, plus rounded corners for safety.
You'll need to install the signs yourself. So, you'll need bolt sets, labour, and a location to put them in.
Idle Free Zone signs cost $30 each plus shipping. This just covers the cost of making these durable, high quality signs. If you are interested and cannot afford the cost of a sign, please contact us anyway.
Contact us to place your order.
If you want to print a temporary sign, download a hi-res "Idle Free Zone Sign" PDF.
For more info on Idling visit the Idling section of our website.
Contact us to book a presentation for your school.
Here's our 3-min video on idling that was filmed at Rockwood School in Winnipeg: