Climate Change Connection has provided tailor-made conferences for youth across Manitoba since 2004.
Youth Conferences on Climate Change have three objectives:
Educate participants about climate change science, impacts, and solutions
Motivate participants into taking action
Activate participants with the tools to successfully make change in their personal lives, schools, and communities.
Host a Youth Conference on Climate Change
Here is your chance to educate, motivate, and activate the students at your school to take action on climate change.
Fill out a Youth Conference on Climate Change Application Form.
It is easy and will have a lasting impact. Schools will be accepted first-come first-serve.
Why youth?
Our youth will inherit climate change. Although impacts are being felt now, more troubling effects are projected to occur in the next 50 -100 years.
What can youth expect? More severe weather events, the spread of disease, and water shortages, to name a few. Youth will inherit the outcomes of all our current decisions and actions to address climate change.
Finally, youth will inherit the habits and mindsets that led to climate change unless they understand how greenhouse gas emissions – individual and societal – are created, and how they can be reduced.
They need the information and skills to communicate their stand on climate change, as well as be a part of the solution, now and in the future.
What happens at the conference?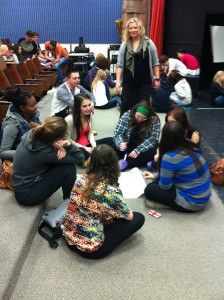 Youth Conferences are day-long events. The day can be tailored to the schools wants and needs.
Here is an example of a successful conference:
During the morning, the participants hear from experts about climate change issues, impacts, and solutions. The morning also consists of interactive games and personal pledges.
During the afternoon, the students focus on skill building and action planning. The afternoon provides participants with lots of time to interact, work in groups, and learn how they can take action at home and in their schools.
Who should attend?
If the conference is at your school, you can decide the number of students and who is invited. Some schools like to select students to attend (one grade, class representatives, geography students, etc.) and others have provided the conference for the whole school.
Both ways work fine. Some sessions selected would require small group numbers but we can make anything work.
How much does the conference cost?
Most conferences will have minimal cost. Typically, lunches for partipants has been the largest cost. We like to provide a local, organic, fair-trade lunch to stick with the theme of the conference.
Climate Change Connection will share costs with host schools. In the past, the average cost to the school was 0$-$750.
Past Conferences
Here are the conferences we have held:
Seven Oaks MET School Youth Conference on Climate Change (Seven Oaks MET, Winnipeg, Manitoba) – May 11, 2016
Miles Macdonell Collegiate Youth Conference on Climate Change (Miles Macdonell Collegiate, Winnipeg, Manitoba) April 27, 2016
John Taylor Collegiate Youth Conference on Climate Change (John Taylor Collegiate, Winnipeg, Manitoba) – April 19, 2016
Goose Lake High School Youth Conference on Climate Change (Roblin, Manitoba) – November 25, 2014
Murdock Mackay Collegiate Youth Conference on Climate Change (Murdock Mackay Collegiate, Winnipeg, Manitoba) – May 1, 2014
Balmoral Hall Youth Conference on Climate Change (Balmoral Hall, Winnipeg, MB) – Jan 15, 2014
Warren Youth Conference on Climate Change (Warren Collegiate , Warren, MB) – Dec 6, 2013
Hamiota Youth Conference on Climate Change (Hamiota Collegiate, Hamiota, MB)- Oct 2, 2013
St. John's Ravenscourt Grade 9 Conference (St. John's Ravenscourt, Winnipeg, MB) – May 14, 2013
Sisler Youth Sustainability Conference (Sisler High School, Winnipeg, MB) – April 24, 2013
Carman Youth Conference on Climate Change (Carman Collegiate, Carman, MB) – February 28th, 2013
GreenSpace (University of Winnipeg, Winnipeg, MB) – November 30th, 2012
Grant Park Youth Conference (Grant Park High School, Winnipeg, MB) – April 27, 2011
Daniel McIntyre Youth Conference (Daniel McIntyre High School) – April 20, 2011
Tec Voc Youth Conference (Tec Voc High School, Winnipeg, MB) – April 4, 2011
Elie Youth Conference (St Paul's High School, Elie, MB) – March 24, 2011
Maples Youth Conference (Maples Collegiate High School) – January 14, 2011
Elmwood Youth Conference (Elmwood High School) – December 2, 2010
Sisler Youth Conference (Sisler High School) – April 22, 2010
Arctic Climate Change Youth Forum (Winnipeg) – February 5th, 2010
North Central Manitoba (Onanole) Youth Climate Change and Leadership Conference – September 25, 2009
Learning for a Sustainable Future Conference (Sisler High School) – April 30, 2009
South Central Manitoba (Manitou) Youth Conference on Climate Change – April 13, 2009
University of Winnipeg Take Action on Climate Change – Dec 12, 2008
University of Winnipeg Youth Conference on Climate Change – Dec 5, 2008
Western Manitoba (Neepawa) Youth Conference on Climate Change – Mar 13, 2008
St.James Assiniboine, Pembina Trails, & Louis Riel School Divisions – Dec 7, 2007
River East Transcona, Seven Oaks, & Winnipeg School Divisions – Nov 30, 2007
Eastern Manitoba (Beausejour) Youth Conference on Climate Change – Mar 9, 2007
University of Winnipeg Youth Conference on Climate Change – Dec 15, 2006
Western Manitoba Youth Declaration on Climate Change – Feb 24, 2006
Pembina Valley Youth Declaration on Climate Change – Feb 10, 2006
Winnipeg Youth contribute to COP 11/MOP 1 – Nov 25, 2005